This is a 3-part framed background consisting of a top-middle-and bottom. It's set up in tables over the main body background. You're welcome to "view source" and copy the code for yourself if you'd like. Just remember to change the "image source" code to point to your own files after you download the set!
Also, there are two extra divider bars at the bottom of the page that will be included in the zip file. You don't have to use all the pieces in the set - but can select the ones that best suit your purpose.
The text color I used here is: #5D6E7B and the font face is: Black Chancery.
For your convenience, you'll find a Zip File at the bottom of this page. A logo for linking back is included with the set. Please link back to: http://www.whisperscastle.com/index.html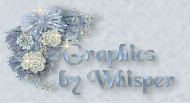 Click Here to download Zip File