The Candle
Soft warm kisses,
Passions of every hue...
The candle of my memory burns brightly
with these thoughts of you.
Your gentle strength beside me,
That twinkle in your eye...
How your skin reflects the colors
Raining from the sky.
The sweetness in your voice
flowing softly through my soul...
The rapture of our closeness
that makes our being whole.
Your golden face of summer,
The kindness in your touch...
The way you look at me
that has come to mean so much.
Quietly spoken promises,
Hours all too few...
Laughter in the sunlight,
Rainbows in the dew.
The circle of your arms,
The glow of firelight...
The scent of candle wax,
You holding me all night...
Moonlight shadows dancing
To a love that's always new...
The candle of my memory
Lights these thoughts of you...
© Whisper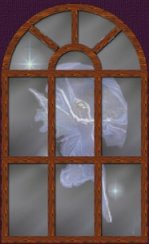 Shadow Dancing
Ahhh, sweet scented evening ~ full moon on the rise...
A million stars were blinking in dark blue-velvet skies.
The garden gate stood open ~ dew glistened on the grass...
It shimmered in the moonlight like tiny drops of glass.
Leaves were lightly rustling on the grand old trees....
Perfume from all the flowers filled the evening breeze.
Those long, graceful shadows soon began to fall,
...and mine was shadow-dancing on your garden wall!
On tiptoes with arms outstretched, I slowly started moving...
And as you watched my subtle dance ~ your glance was so approving!
An easy "glide" ~ then "turn & slide" ~ (your gaze is so appealing!)
Now "step & stay" ~ then "bend & sway" ~ (Oh, such a happy feeling!)
Don't watch me from your window, sir... come out and join my reeling...
Give yourself to this soft night ~ it has no walls or ceiling!
And as our "steps" become as one ~ just two souls intertwining...
We'll leave this message on the wall: "Here, two hearts were shining!"
© Whisper
Although entirely an amateur, one of my favorite hobbies has been collecting pictures from all around the web as well as from magazines, catalogs, greeting cards and various other sources throughout the public domain.... and then "grouping" various pictures in order to create some specific "scenes". It's rather like playing with a "dollhouse".

Below is another very small and limited example of what I mean. Such fun! This hobby has provided me with many hours of imaginative and creative pleasure. I hope they can bring a smile to your face too. You can find more "scenes n' things" in the Free Graphics Section of the Castle.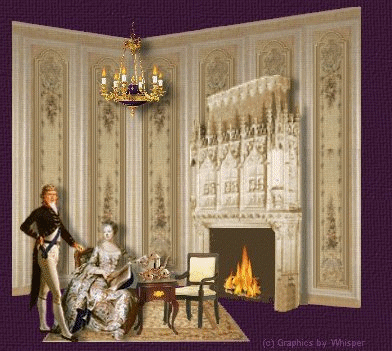 You're just in time for tea! Please come join us
and meet some of the other delightful castle residents!
Click here to "arrange" your own room!
Have Fun!!
Speaking of "other residents", I think it's time you met another of our residents. After tea, she often comes here to a private little room and reads for awhile. Today, she's reading some of the Castle's Old Fairytales. By the smile on her face and that "far away look" in her eyes... I'd bet she's "off in the blue" doing a little dreaming of her own!

Fairytales, you ask? Well of course!! What would a Castle be without them... and this Castle just happens to have it's very own "Fairytale"...hummm...and I believe she's about to pay you a visit......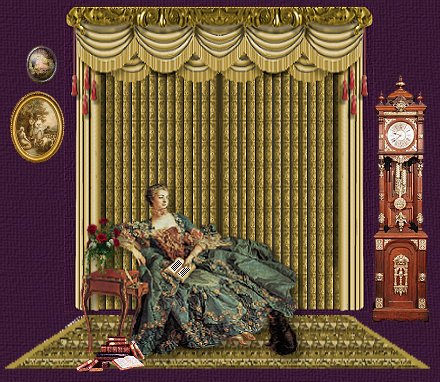 Oh, yes... I see the page she's on now..... it says:
"Once Upon A Time... there was a very sad and lonely Prince who held a special dream in his heart, and each night...( continue next page...)
&nbsp

&nbsp
Music playing : "Morning Glow"